Don't want to fool you with this article: the best bars and pubs in Prague are those that offer the best Czech home-made food, and of course those who have beer, the national pride, which is not only a playful element, but a cultural and social ritual. Therefore, from the BoHo Hotel we will not give you specific recommendations of which bar, restaurant or pub in Prague you need to go, but the places where you can enjoy Czech cuisine and outstanding elements which compose it. Na zdraví! (cheers).
What to eat in Prague?
The Prague food stands out for its influence from the German and Austrian cuisine. Therefore, it will be easy to find elements of both cultures such as goulash (stewed beef served as a soup) or schnitzel (breaded fillet of pork), but also venison, pork knuckle, roast pork with pasta and cabbage, marinated loin or roast duck.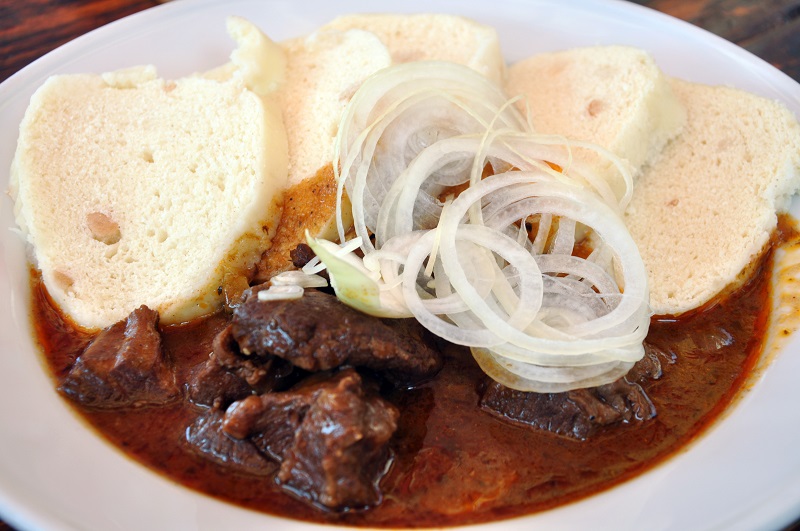 Where can we taste all these delicacies? No need to leave the hotel to enjoy many of them thanks to our room service, but nonetheless, if what you want is to stop on the road while visiting the city and fill your stomach, Stare Mesto, Mala Strana and Nové Mesto are districts with a lot of restaurants to eat well and with a cheap offer.
Despite being tourist areas, they have not made the mistake of creating a menu for visitors, and the dishes are usually served at all locations with excellent quality. However you should avoid areas where the confluence of tourists are massive, such as the Prague Castle, since they do not only serve us with some haste and without attention to details, but also the price will be higher and it does not always match with the quality.
What to drink in Prague?
This question makes no sense at all. The answer is, without any type of doubt: beer. The pivo (beer in Czech) is not only the national drink, but the pride of a nation.  Just 80 kilometers from Prague we find the city of Pilsen, where hundreds of years ago this world-famous type of beer was produced: golden, frothy and with a refreshing and delicious taste. What brands do we need to try? The most famous are Ulquer Pilsner, Gambrinus and Staropramen.
Where is better to consume them? In any bar or in our luxurious service, but if you want to integrate the drink and the experience of discovering Prague, Tavern U Fleku, which is the oldest brewery in Prague (dating from 1499), is a very appropriate place and only 18 minutes walk from the BoHo Hotel (9 minutes if you go by tram).
Moreover, the Prague Beer Museum has also got a wide variety of beers for the fan of the malt and hops. Up to 30 different beers on tap can be found in this exhibition premises.
What desserts to eat in Prague?
And finally, what a better way to finish the best things than eating a delicious dessert? In Prague there are three that stand out above the rest, the delicious trdelník, which can be found along our ride in many pastry shops and street stalls, the palacinky and finally the Kolache.
The trdelník is Prague's favorite dessert. It is a dough similar to that used for cooking waffles padded with fruit and almonds. This delight is topped with a caramelized crust.
The palacinky could be defined as a pancake and it is stuffed with ice cream, roasted fruit or jam. It is commonly served as the final dish in the menus offered in restaurants and pubs.
Finally, the kolache is a fruitcake that has different types of preparation, but the most common is based on fresh cheese topped with poppy seeds or coated with sugar and butter. Such is its popular acceptance that it has its own festival!